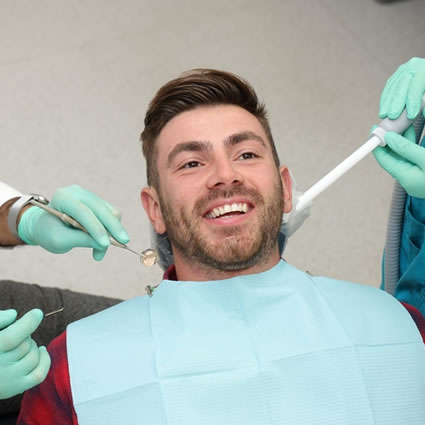 Dental Implants in
Docklands, Melbourne
Dental implants are a common treatment provided for our patients. We use the latest technology, which guarantees you will receive nothing but the best quality implants that money can buy. That is why Pinnacle Dental is Docklands's number one choice when it comes to dental implants!
For some people, getting ordinary dentures or bridges is simply not an option. This may be because they aren't comfortable, or it could be for other reasons such as poor ridges or sore spots.
One key benefit of implants is that any adjacent teeth don't have to be ground down or prepared to effectively hold the replacement tooth/teeth in place. This means that the procedure is efficient and seamless and that you end up with a result worth smiling about.
Dental implants are used to fill gaps in your mouth that are created by missing teeth or teeth that have been extracted. The gap that's left will widen over time and can even result in crooked teeth if this gap isn't filled with another tooth. Replacing the missing tooth with an implant can help prevent these issues.
Why Choose Us?
We are a professional & experienced dental practice specialising in a broad range of dentistry procedures.
Our dental experts place a strong focus on the quality of our work, and every treatment is performed with the highest standard of quality.
We provide treatments tailored to the individual needs of each patient, and we take our time to understand what's important to you.
Our dental practice uses only the most technologically advanced components and materials.
We take a caring, compassionate approach and are gentle and effective with all dental procedures.
We are committed to educating you about post-care and maintenance of your teeth once the procedure is complete.
We take time to build relationships with each patient and treat you as an individual person, not just a patient.
We provide flexible appointment times.
Our clinic has ample parking and is easily accessible by public transport.
We offer transparent pricing and flexible payment options.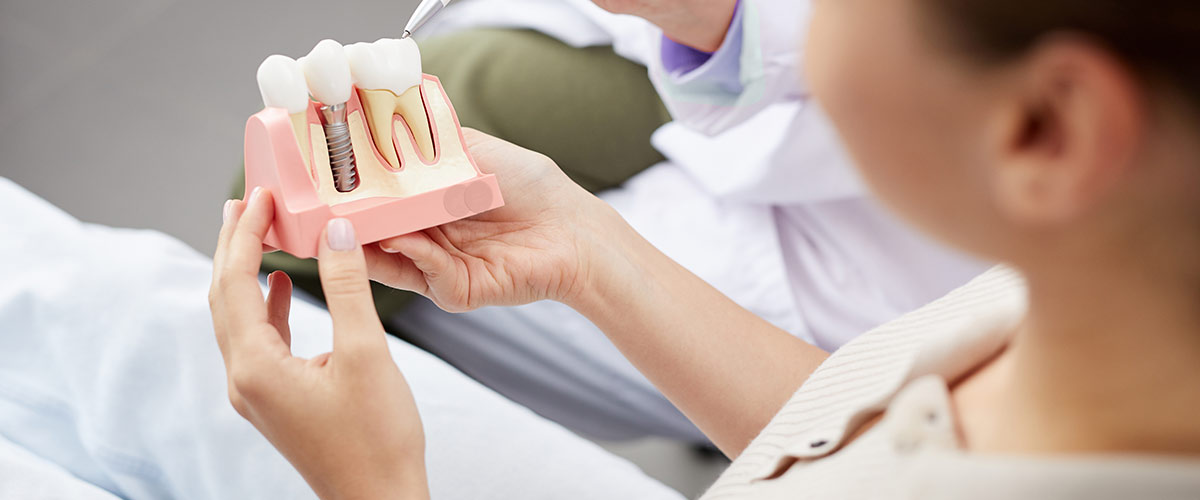 How Do Dental Implants Work?
Dental implants are screw-like anchors designed to be used as artificial replacements for the natural roots of missing teeth. They are made from materials compatible with the human body, such as titanium, and are placed into or above the jawbone. This way, they offer a stable base for artificial teeth replacements, such as bridges, dental crowns, and dentures. When the implant is securely positioned on the jawbone, we will then mount the replacement tooth/teeth on them.
The implant is usually applied in two stages. With the traditional method, the gum will first be cut open to expose the jawbone. The implant is then drilled into and implanted in the jawbone. During the second stage, the gums will have fully healed and the artificial tooth is fixed or mounted on the implant.
Dental implants are quite a popular choice when it comes to replacing missing teeth, as they provide a safe, long-term solution. They are the most natural-looking tooth replacement option and are ideal for replacing badly diseased or missing teeth. They are also a great alternative for dentures and can last you a lifetime with proper care.
Some of the benefits of dental implants are as follows:
They provide an incredibly sturdy, strong, and long-lasting tooth replacement solution.
They are a low-maintenance option in comparison to other options, such as dentures.
They are comfortable and convenient.
They restore the full strength of your bite.
They prevent the negative effects of tooth loss, including bone atrophy, gum recession, and speech difficulties. They also help to maintain the jaw and the rest of the natural teeth in the mouth.
They are secured into the jaw, meaning you don't have to worry about the stress (and embarrassment) of having to remove a prosthesis.
Dental Implant Procedure
During the initial visit, we will evaluate the health of your bones and gums. This will help us to determine the condition of your general oral health, and see if you are a good candidate for dental implants. If there's a damaged tooth, it's first removed and then an implant is installed into the jaw. A screw is then inserted to keep debris from entering the implant. On average, it takes three to six months for the implant to fuse with the jawbone.
Within this time, the gum is secured over the implant. When you come back to our clinic, the implant is then uncovered and a post is attached. When the gum tissue is fully healed, the post and the implant will both serve as the foundation for placing the new tooth.
Finally, an artificial tooth that matches the colour, size, and shape of your natural teeth is made. It's then installed onto the implant post and from there, you can enjoy your beautiful smile. The best thing about implants is that they can last you a lifetime with proper oral care and hygiene.
Book Today
Contact us today to schedule an appointment for dental implants.
CONTACT US

Dental Implants in Docklands, Melbourne VIC | (03) 9052 4422